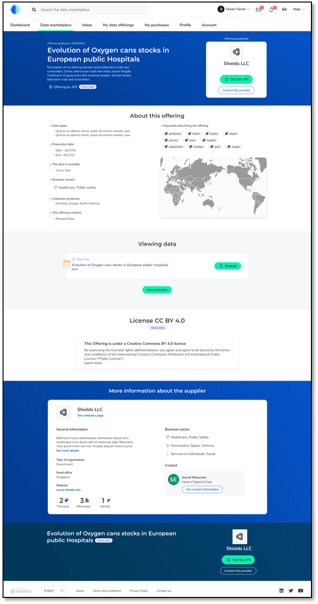 The COVID-19 Data Exchange is an easy-to-use platform, allowing its participants to securely source, publish and exchange non-personal data with public and private organizations, and other stakeholders aiming at stopping the virus' progression and its economic impact.
Data Exchange technology enables users to remain in full control of the data they share, with whom they share it, and to keep track of all data flows.
The platform acts as a trusted third-party where users benefit from multiple governance features providing maximum security, traceability and confidentiality. Data are exchanged in full compliance with regulations, leveraging blockchain technology to ensure the integrity of licensing contract in private or open data mode.
Only strictly vetted participants are granted access to the platform to ensure strict confidentiality and relevance of the data exchanges.
To broadly open-up the platform access to the maximum of countries and avoid any infringement of respective privacy regulations, participants are not authorized to create data offerings containing personal data on the COVID-19 Data Exchange.
On the COVID-19 Data Exchange,
Scientific communities can access vast amounts of data from all around the world, including data sources that are not easily available.
Hospitals and other healthcare operations can have access to cutting-edge yet easy-to-use tools to publish and share field non-personal data with a large global community.
Many other stakeholders having a direct impact on the resolution of this crisis can find and exchange valuable data. Amongst them, specialized equipment manufacturers and distributors, governmental agencies or public services, banks, insurance, retailers, transport and logistics organizations, ...
Various types of non-personal data can be exchanged including, but not limited to, statistical data, research data, anonymized raw data, tests results, equipements sourcing and inventory data, social and sentiment data, and many other types of data (open data or private data).
Visit our Resources page for more materials about the way data sharing and data exchange can help combat the COVID-19 health and economic crisis.